Catalog Corrections/Updates
Hip 335 is shown as Indiana Sired (IS) in the catalog. The yearling is registered Indiana Sired and Bred (ISB) and is fully eligible to the Indiana program.
Sale Outs
Hip 12 - Golden Gate Ivy
Hip 75 - Jesmach Speaker
Hip 89 - Mr Blitzer
Hip 136 - Painted Truth
Hip 139 - Ideal Passion
Hip 186 - Stormont's Legacy
Hip 234 - Swananna

Rockin Image Yearlings Bring $67,000 in Both Sessions
Topville Celestial, cataloged as Hip 105, topped Hoosier Classic Yearling Sale Company's first session, held Friday, October 25 at the Indiana State Fairgrounds. The filly, consigned by Topville Acres, is from the first crop of Rockin Image.
William "Bo" DeLong went to $67,000 to take home the filly, a sister to $600,000 winner Always About Katey, a filly he owns in partnership with his son, Pat, and Katey McClymont. Delong also signed the slip on Jacksons Image, Hip 170, at a price of $45,000. Also from the first crop of Rockin Image, the colt is out of ISS final winner Miss Yankee Doodle, dam of Rampage Jackson.
The highest-priced trotter of the session, Swan For All colt Mr Color Chip, topped $38,000. Cataloged as Hip 160, the yearling is the first foal from the accomplished mare Miss Color Chip, sister to Indiana Sires Stakes champion J Rs Star. DeLong also signed the slip on the colt.
Like the first session, a colt by Rockin Image brought the top price in the second session. Hip 130, Rocky Island, was purchased for $67,000 by Tim Wilson, acting as agent for Jimmy Takter. Consigned by Peninsula Farm, the colt is out of Jenna's Beach Boy mare Trinity Island, a winner of nearly $250,000 with a mark of 1:50.3.
Fools Desire, Hip 320, brought the next highest price of the session, selling for $35,000. The Real Desire colt, out of the producer Trinketsntreasures, was purchased by Peter Wrenn, acting as agent. The yearling was consigned by Morrow Lands Farm.
Topville Celestial (Dean Gillette photos)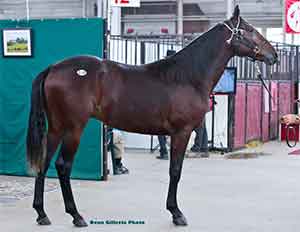 Rocky Island